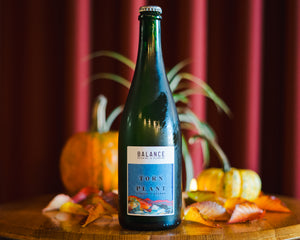 Smeuse - 6.5% - 750 ml Bottle
Online & Taproom only release!
Smeuse is our collaboration with Torn Plant, a wonderfully thoughtful minimal intervention cider outfit from Cheshire. For this collaboration we decided to fuse our saison and their cider into a synergistic example of what we both do best.
You'll find an orchard of aroma on the nose. Floral notes of honeydew melon and the light touch of saison funk. Apple skin bitterness lingers and melds with perfumed aromatics for a tantalisingly long and enchanting finish.
Drink it fresh for crisp, bright character or age to see where the funk takes it!
You can buy this as a two pack with one of our stemmed Harmony glasses here.
Bottling Date: 27/06/2023
Max. three bottles per customer