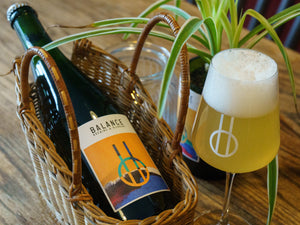 Saison de Maison Blend 4 - 5.5% - 750 ml Bottle
The fourth iteration of our house saison is a blend of three barrels filled in March 2022, fermented with saison yeast, lactobacillus and brettanomyces and dry hopped with 8g/L of UK Cascade and Goldings.
These two hops bring harmonious flavours which work fantastically with the base blend. Earthy tones of floral honey and gingerbread from Goldings contrast the sweet tangerine and grapefruit of UK Cascade, bringing nuance and complexity. The finish is resinous yet mellow with a long-lasting woody note.

Drink this one fresh or age to see where the funk takes it!
Bottling Date: 11/04/2023
Max. three bottles per customer.