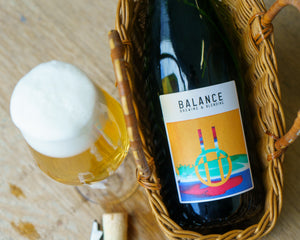 Saison de Maison Blend 3 - 6% - 750 ml Bottle
The third iteration of our house saison is a blend of two barrels filled in December 2021 and March 2022, fermented with saison yeast, lactobacillus and brettanomyces and dry hopped with close to 10g/L of UK Bramling Cross from the 2021 crop.
This wonderfully expressive hop brings real character. You'll find mouth coating lemon peel, pleasant resinous bitterness and complex fruitiness. The finish is long and refreshing with earthy, herbal notes, funky pineapple and subtle, spicy blackcurrant.
Drink this one fresh or age to see where the funk takes it!
Bottling Date: 27/10/2022
Max. six bottles per customer.