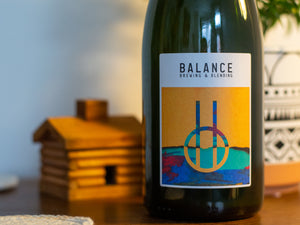 Saison de Maison - 750 ml bottle
A mixed culture, barrel fermented saison dry hopped with British Goldings. A beautifully simple grist of low colour Maris Otter and torrefied wheat, mashed high to retain dextrins for secondary fermentation, brings delicate bready notes and a clean, soft background for the yeast and hop character to shine.
Bright carbonation and pleasing acidity lead into layered, fruit forward brett and hop character. We get funky pineapple up front with notes of gingerbread, ripe peach and subtle Perry pear. Gentle bitterness and herbal, woodruff notes meander into the long, clean yet complex finish.
Drink this beer now to get the brightest hop character or lay it down for a few years to see where the funk takes it!