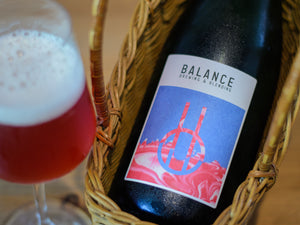 Ripple - 750 ml Bottle
Ripple is a blend of two barrels from August and December 2021, fermented with saison yeast, Lactobacillus and Brettanomyces before ageing for two months on carbonically macerated British raspberries.
Beautifully fresh raspberry aroma mingles with subtle fruity funk and the woody vanilla notes of oak. Raspberry jelly cubes on the palate and quenching acidity work in harmony as the tannic, vinous qualities of the base beer shine through.
Drink this beer now for the freshest, juiciest fruit flavour or let the funk take the wheel and try it in a few years time!
Select Collection from Café Beermoth at checkout for local pickup.