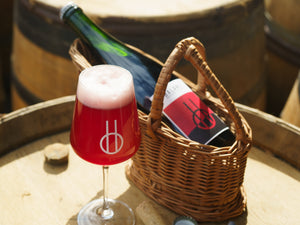 Creak - 6.5% - 750 ml Bottle
Creak is a blend of two barrels filled in June and August 2021, fermented with saison yeast, Lachancea, lactobacillus and brettanomyces before ageing on carbonically macerated British Morello cherries.
An ode to one of our favourite Lambic styles, this beer is intensely fruity with jammy notes of ripe cherries, vanilla and almond.
Pleasing acidity and tannic structure complement the funky, elegant minerality and barrel character.
Tasting superb now but we're intrigued to see how this one ages.
Bottling Date: 18/4/2023
Max. three bottles per customer