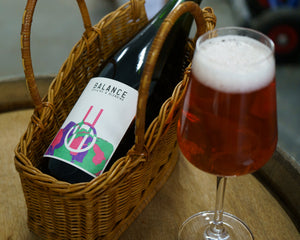 Clingstone - 6.5% - 750 ml Bottle
Clingstone is a blend of two barrels filled in July & August 2021, fermented with Kveik yeast, Saision yeast, lactobacillus and brettanomyces before ageing for five months on second use damsons.
This beer foregrounds the fascinating character of the damson stone alongside a refined and delicate fruit character. The aroma is full of sweet almond, rose and juicy plum with earthy funk tying it all together. A full body and moderate acidity amplify the vinous character with notes of damson jam, vanilla and marzipan.
Drink now or age to see where the funk takes it!
Bottling Date: 29/8/2022
Max. three bottles per customer.