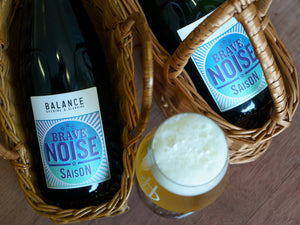 Brave Noise Saison Two Pack With Glass
Online only release. All profits from the bottles go to Hospitality Action.

A collaboration with a big goal: A safe and discrimination free beer industry. We've taken our base Saison from two barrels and dry hopped it at 12g/L with Bramling Cross and UK Cascade, making it our hoppiest beer to date. You'll find fruity funk and lemon rind pithiness melding with crisp minerality and a clean, refreshing finish.

Brave Noise
What started with a simple question from Brienne Allan, "Have you ever experienced sexism in the beer industry?", soon became a global inquiry implicating a huge number of breweries and sending shockwaves throughout craft beer. Brave Noise is the global collaboration brought about to honour those who have spoken out about gender discrimination, racism, sexual assault and harassment. It also acts to bring further awareness to issues facing women, BIPOC and LGBTQIA+ individuals in craft beer.
All of the profits of this collaboration will be going to Hospitality Action, a UK based charity who work within the hospitality industry to provide wide ranging support. From physical illness to mental health issues to financial difficulty, family problems to addiction.
You can find out more about
Brave Noise
and
Hospitality Action
through the links in our social media bio and through our stories as well as what we're doing to ensure Balance is actively engaged in creating a safe and discrimination free industry.
Only 139 bottles of this beer exist. Once they're gone, they're gone!
Bottling Date: 08/02/2023

Max. THREE bottles per customer.